Tasman Sea
Designed by John Winters
Burks Falls, Ontario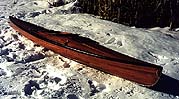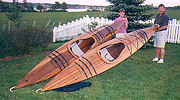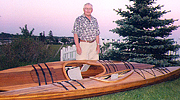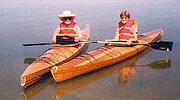 (click on photos to enlarge)
---
Tasman Sea Dimensions
Overall Length
13'6"
Waterline Length
12'11-1/2"
Max. Beam
25"
Displacement
180 lbs.
Thanks to Dave Walker of Owen Sound for the photos of his Tasman Sea in the snow.

And, thanks to Bruce Hillstrom for the photos of his pair of Tasman Sea's.

---
The Tasman Sea
The Tasman Sea is the smallest kayak in John Winters' design series. The 180 pound displacement is suitable for day paddling or for smaller paddlers on weekend trips.
Scaling down a larger boat is rarely successful, so the Tasman Sea has its own distinct shape. Wider, cheekier, and with less deadwood aft, it is considerably more lively than the larger Caspian Sea - the objective being a stable but fun boat to paddle. A high prismatic coefficient is appropriate in such a small boat, and the Tasman can be paddled at speed/length ratios in excess of 1.5 by a strong recreational paddler.
Stability is high and the boat can be rolled until the cockpit is awash yet still right itself, which gives the paddler a sense of security. All this in a neat little boat for people who paddle just for fun.
Dave comments "I've been curious to know just how the Tasman would act in moving water so I took it out with my whitewater club last week. I (and everyone else) was really impressed. It surfs like a dream, ferries quite well, and its hull speed allows it to work upstream better than any pure white water boat. I think I'd be quite comfortable running Class III rivers with it. Maybe I'll try some wilderness tripping with it".
The two Tasman Sea's in the row of three photos above were both made by Bruce Hillstrom, of Bridgewater, NS, for his daughter and her husband. A great looking pair, Bruce!



---
Order Tasman Sea Plans
Return to see other available Models.
---